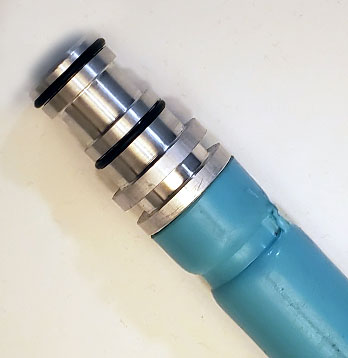 NEW
Q Line Underground Connectors
Introducing the quick repair fitting for Q-Line underground water pipe. Veratek Self Crimp fittings now has the sizing along with field testing that incorporates the same proven performance that the Kitec Repair fittings have come to establish, built into this new fitting.
An ideal solution for contractors to carry with them for field service and repair.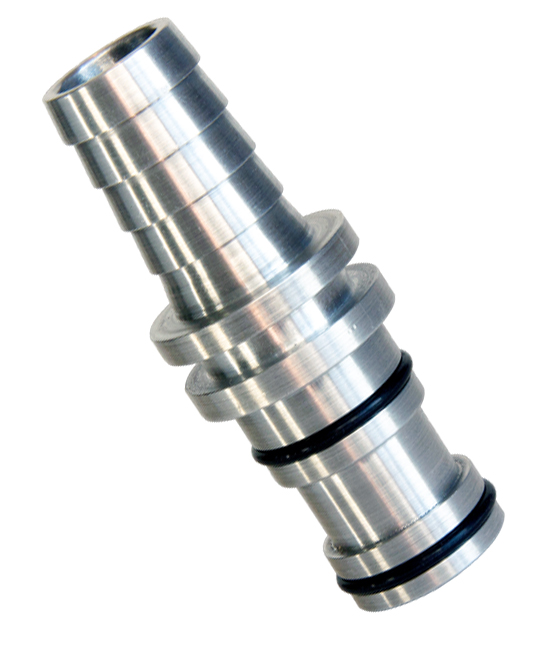 Veratek Self-Crimp Fittings – Kitec Plumbing Repair
Veratek Self-Crimp Fittings are designed to be self-crimped onto the Kitec pipe without the need of clamp rings. Crimping the aluminum sheath inside the Kitec plumbing pipe makes a leak-free seal around the Veratek fitting. The new Veratek replacement fittings (Kitec replacement fitting) are manufactured from high-grade aircraft aluminum (6061-T6) and are made in Canada.  Veratek replacement fittings are made for Kitec plumbing repairs and failed Kitec fittings. Kitec plumbing failures have been linked to a metallurgy effect of fittings and clamps. Kitec pipe and Kitec plumbing fittings were used extensively throughout North America from 1995 to 2007.
The Veratek end conversions allow the user to fit up into standard NPT male or female, along with hose barb and PEX conversion ends to convert a variety of Kitec plumbing repair products and applications. Therefore, with these choices, the opportunities to change the plumbing application, or make a Kitec plumbing repair can be done with a leak-free seal. Furthermore, the fitting design, and wall thickness has taken into account flow restriction, and in most plumbing applications the flow is greater than the originally installed product.
Applications and Conversions
Veratek Self-Crimp Fittings are produced in four separate end conversions along with four Kitec pipe sizes of 1/2″, 5/8″, 3/4″, and 1″ to help with your Kitec plumbing repair. These Kitec replacement fittings can be used on hot and cold water lines which allows plumbers or homeowners the opportunity to convert to a variety of plumbing products or change the plumbing application with leak free, seal-tight confidence.
Typical Kitec Piping was used in the floor heating industry, and with this Kitec replacement fitting it allows the smooth transition into aluminum couplers to attach to manifolds and wall mounted radiators. With the glycol/water solutions used in these systems, the aluminum fittings resist corrosion and work to transfer the heat through uniformly. Many uses of Kitec plumbing pipe exist, from underground sprinkler systems, home water lines, to ground source cooling coils, but whatever your use or application was, Veratek has a conversion fitting.
Installation is fast, efficient, and will save thousands of dollars to convert plumbing systems that are already in place.
Kitec
Barb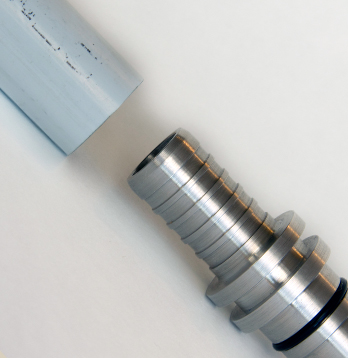 PEX
Crimping Tools
Installation is fast and accurate. These unique tools give you seal tight confidence by controlling 3 crucial variables.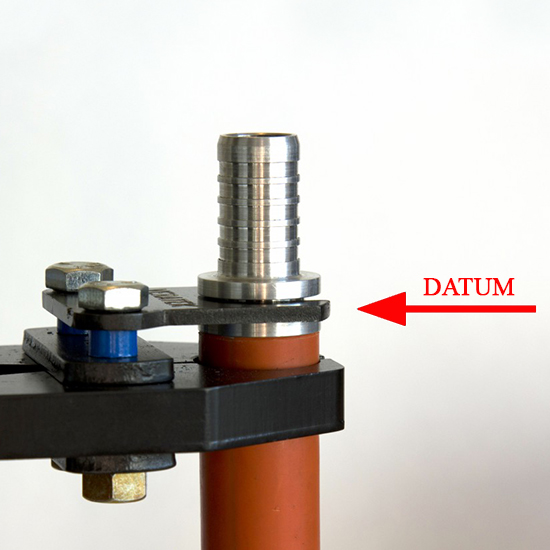 1. A location collar DATUM on the crimping tool positions the fitting to the tool consistently each and every time, means consistent application.
2. The tool is also designed to control crimp pressure with a dead stop that prevents over crimp fractures.
3. Once the Veratek fitting is crimped, visual inspection is simplified by seeing the tube indentation.
Homeowner Wrench Style Crimp Tool
This crimp tool is a cost-effective choice when crimping lower volumes of the Veratek Self-Crimp Fittings.
Professional Scissor Style Crimp Tool
This tool is designed to make installation fast and easy for individuals or plumbers that find themselves crimping larger volumes of the Veratek Self-Crimp Fittings.
Visual Seal-Tight Confidence by Veratek
Veratek Self-Crimp Fittings simplify the inspection process of newly installed fittings, with the indentation in the actual pipe tubing. This visual cue that the fittings are secured is your seal-tight confidence and backed up with the double o-ring and four point shoulder contact. Your Veratek plumbing repairs will be leak free due to Veratek's unique transition fittings and crimp design.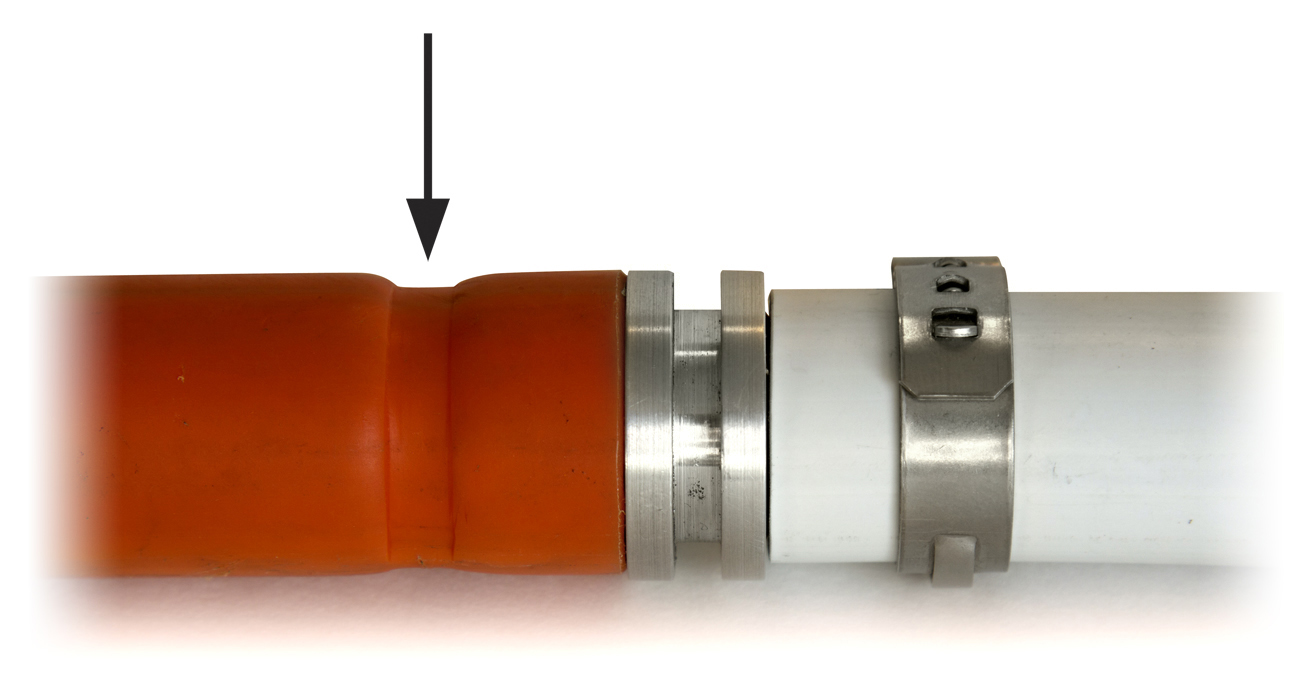 Veratek Self-Crimp Fittings
Female NPT
Fitting
Available in standard Kitec sizes of:
1/2″, 5/8″,3/4″, and 1″

Male NPT
Fitting
Available in standard Kitec sizes of:
1/2″, 5/8″,3/4″, and 1″

Barb
Fitting
Available in standard Kitec sizes of:
1/2″, 5/8″,3/4″, and 1″

PEX
Fitting
Available in standard Kitec sizes of:
1/2″, 5/8″,3/4″, and 1″

Kitec
Fitting
Available in standard Kitec sizes of:
1/2″, 5/8″,3/4″, and 1″

Kitec Plumbing Repair
If you have a kitec plumbing system in your home or business with a brand of plastic pipes called "KITEC", then please watch this video.
Installation Instructions
Fitting corrosion is a concern when joining dissimilar metals together. The Veratek fittings are made from aluminum to be compatible with the aluminum sheath inside the Kitec pipe. Joining Pex pipe or hose pipe to a Veratek fitting is totally acceptable. If you require a Veratek fitting to have a male or female pipe thread on the end, it should never be joined with fittings made from materials such as brass, Stainless Steel or galvanized metal. If these are used galvanic corrosion will occur. Common acceptable fittings for the Veratek pipe thread ends would be (CPVC = Chlorinated Polyvinylchloride) (PE = Polyethylene) (Nylon)
Always use a non-petroleum based lubricant when installing a Veratek Fitting to ensure the O-rings do not roll when inserting the fitting into the pipe. Plumbers grease or petroleum based lubricates can harm the O-ring.
Ensure the inside surface of the Kitec pipe has not been damaged or gouged when the old fitting was removed. Veratek Self-Crimp Fittings seal by O-ring contact on damage free surfaces so cutting the pipe back may be required to achieve this.
When crimping with the scissor tool or wrench tool ensure the crimp tool is compressed all the way so it bottoms out on the adjacent side. These tools are designed to bottom out yet never allowing the pipe to be over crimped. Failure to bottom the tool out could lead to failure or leaks of the Veratek fitting due to insufficient crimp depth.
We would love to hear from you. Please e-mail Veratek Self-Crimp Fittings with the contact form below or call us at 204-339-3052
Veratek Self-Crimp Fittings
Unit 2-329 Parkdale Rd
St. Andrews, MB Canada  R1A 3N9
Sign-up for news about new product offerings, updates and special offers by Veratek Self-Crimp Fittings. We will not share your information with anyone.
Ordering and Shipping
When placing an order please ensure that the address on the credit card matches the shipping and billing address.
American Express credit cards are not accepted.
Orders are shipped Monday through Friday. There is no shipping on weekends.
UPS does not ship to P.O. Boxes.